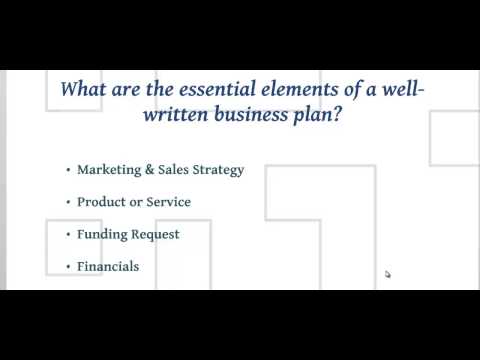 Essential elements of a GOOD business plan : How to write a business plan
Business plan template
Why do you need a GOOD business plan?
Whether you're just starting a business or running an established business there are lots of reasons why writing a business plan is extremely important.
Here are just a few reasons why you need to have a written business plan for your business :
     

A business plan is like a blueprint for your business. Basically, you know what you want to achieve and with a business plan you decide on what actions you need to take to make achieving those results possible.

    

A written business plan is going to save you lots of money and lots of time because you are testing on writing first if your business idea is feasible or not.

  

If you need start-up or operating capital or you're planning on attracting investors you must have a well-written

 

business plan in order to convince them to invest in your business.

  

Having a written business plan helps you get clarity on where you are now and

 

keeps you on track to achieving your goals and also it's easier to track what works and what does not work as planned. This way you can do more of what works and

 

quit what doesn't work and you'll move faster towards achieving your goals.

 
Keep in mind that as your business grows, your goals will change and your business plan will need to be adjusted as well.
What are the essential elements of a
well-written business plan?
•  Executive Summary
The executive summary is an overview of the entire business plan  and  even if it's the first section on your business plan it's the part that it should be the last section of your business plan written. Your executive summary should clearly tell the reader what you want. It should be also easy for the reader to realize at first glance your company profile, capabilities and goals.
•  Market Analysis
Researching your business industry, market and competitors is essential for your business success. This is the section where you demonstrate your knowledge about the particular industry your business is in. Include information of the industry you're in, your target market and evaluation of your competition and market tests
•  Company Description
Your company description you should provide information about the nature
of your business, what differentiates your business from others, the factors that will make your business a success and also show how all of the different elements of your business fit together.
•  Organization & Management
This is a section for details about your company's organizational structure, ownership of your company, profiles of your management team, and the qualifications of your board of directors.
•  Marketing & Sales Strategy
In this section, define how you plan to market your business and your sales strategy. Your strategy should  include the market penetration strategy, a growth strategy, channels of distribution strategy, a communication strategy, a sales force strategy and your sales activities.
•  Product or Service
This is where you describe your product or service. Focus on the benefits of your product or service for your current or potential customers and the areas where you have a clear advantage. Identify the problem in your target market for which your service or product provides a solution.
•  Funding Request
In this section, you will request the amount of funding you will need to start or expand your business. If necessary, include best and worst case scenarios. Be realistic.
•  Financials
If you need funding, providing financial projections to back up your request is critical. For efficiency reasons, the financial projections section should be developed after you've analyzed the market and set clear objectives. You should include three to five years of historical data.
 As your business evolves your business plan evolves as well, your environment changes and your marketing strategy must be adapted. Re-visit your plan at least quarterly, monthly is best for better results.
•  Appendix
An appendix is optional and should not be included with the main body of your business plan. You can include here credit history, contracts, resumes, etc.